KER MER unveil In Praise of Blue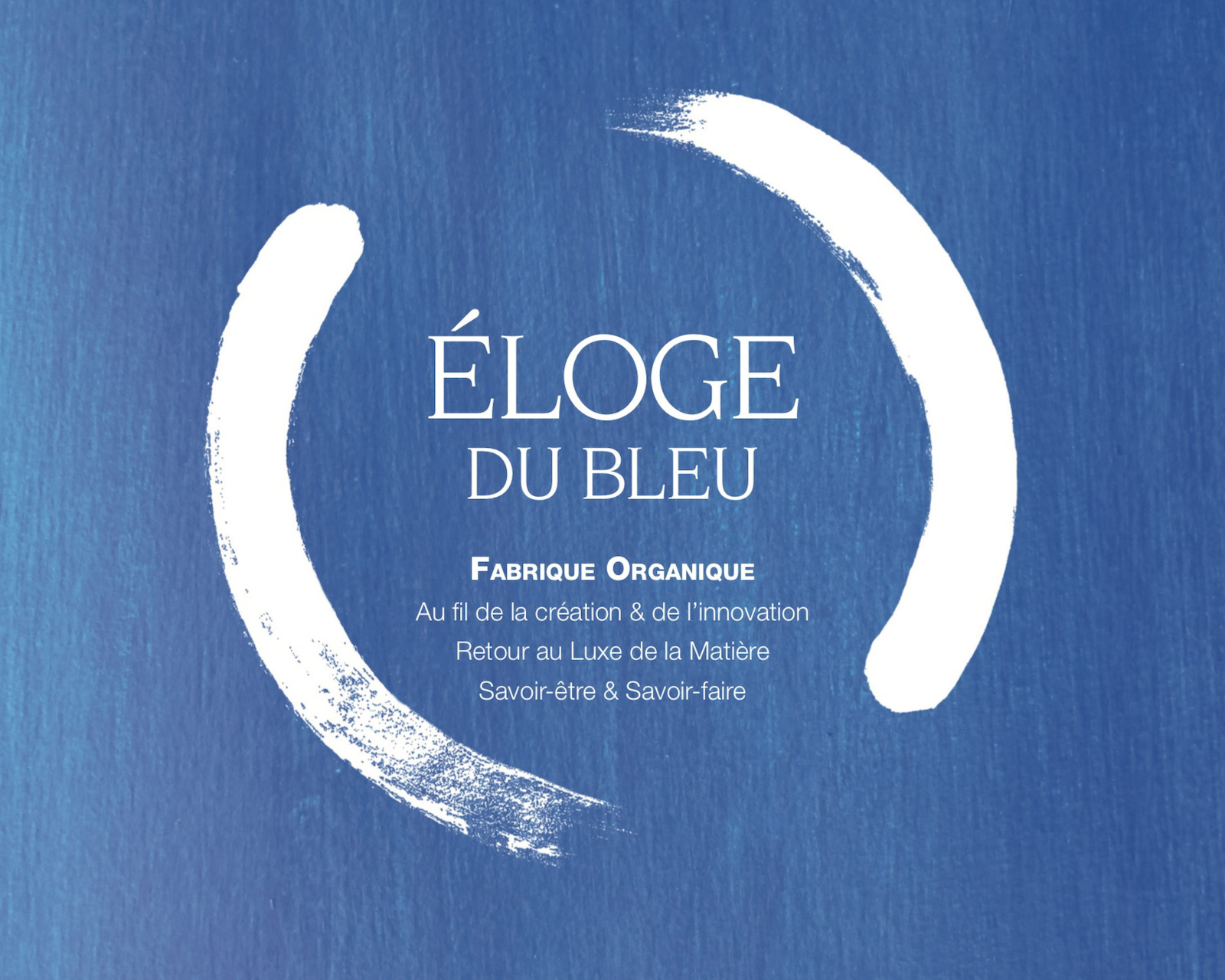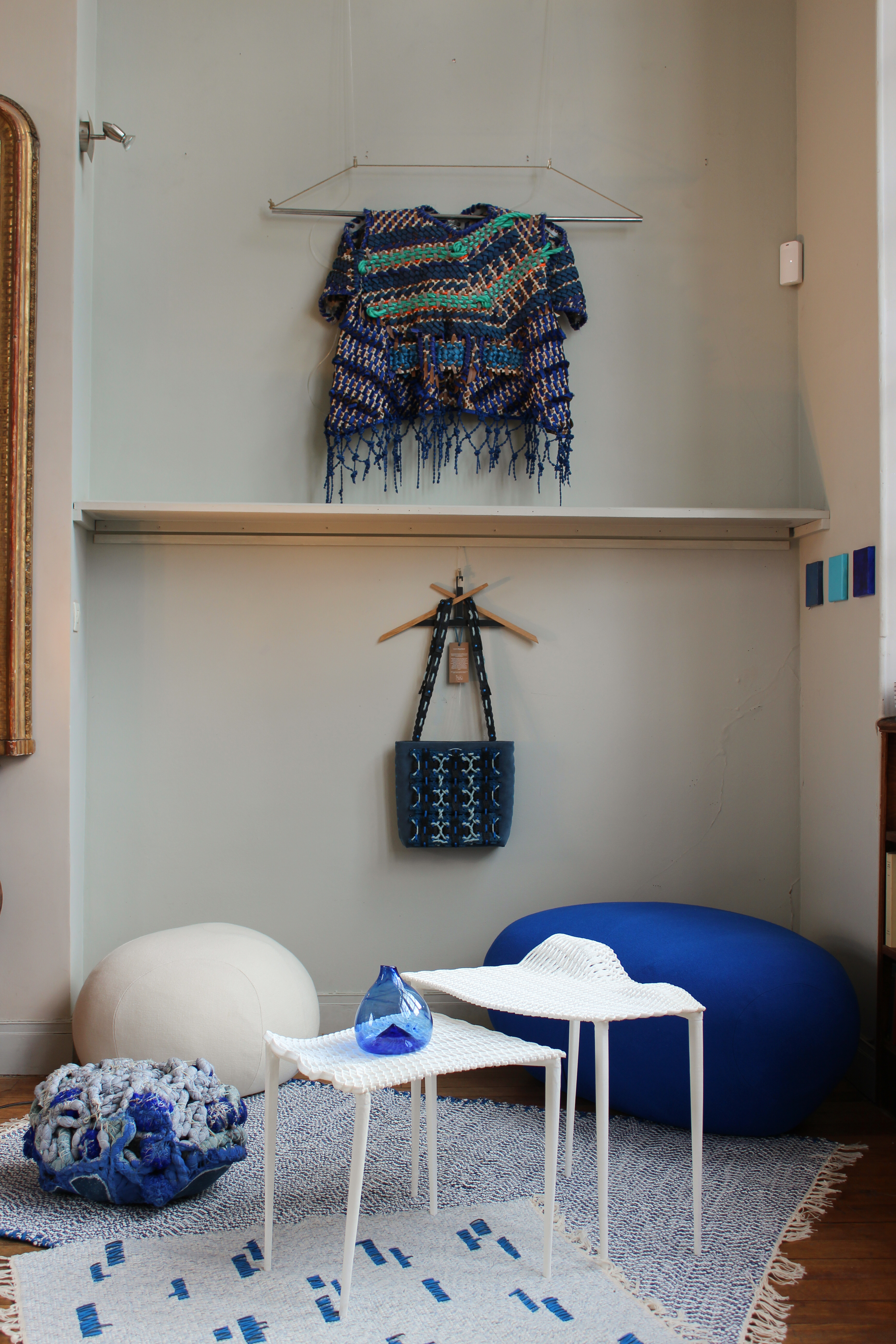 KER MER was inaugurated at an exceptional event hosted at the Atelier AROA Gallery in Neuilly-sur-Seine, L'ÉLOGE DU BLEU (In Praise of Blue) on June 4th 2019.
The colour blue, symbolizing water, is the source of inspiration and action for the KER MER collective.
Through this event, KER MER played the true role of incubator of innovative Art and Creativity projects in the service of environmental protection.
Through the element of water, KER MER presented projects and artistic creations where creativity and know-how go beyond the challenges of recycling with the objective of minimal impact on the environment.
KER MER curated a dozen artists and creators and introduced works based on natural Indigo pigments, design pieces that innovate through their materials, and eco-responsible creative fashion.
Dominique Cardon, CNRS researcher emeritus and world-renowned expert in natural dyeing, presented her forthcoming book "DE LA COULEUR POUR LES LUMIÈRES" before its publication.
Sarah Lelong, expert in the maritime domain and founder of the OC&AIA association,who appear then in the next ocean project in Nantes, LA MER XXL, also made a presentation her work.
The KER MER collaborations: a tribute to natural pigments, Egyptian cotton and bio-sourced materials made from oyster shells and other vegetal waste. Discover more on our e-boutique page.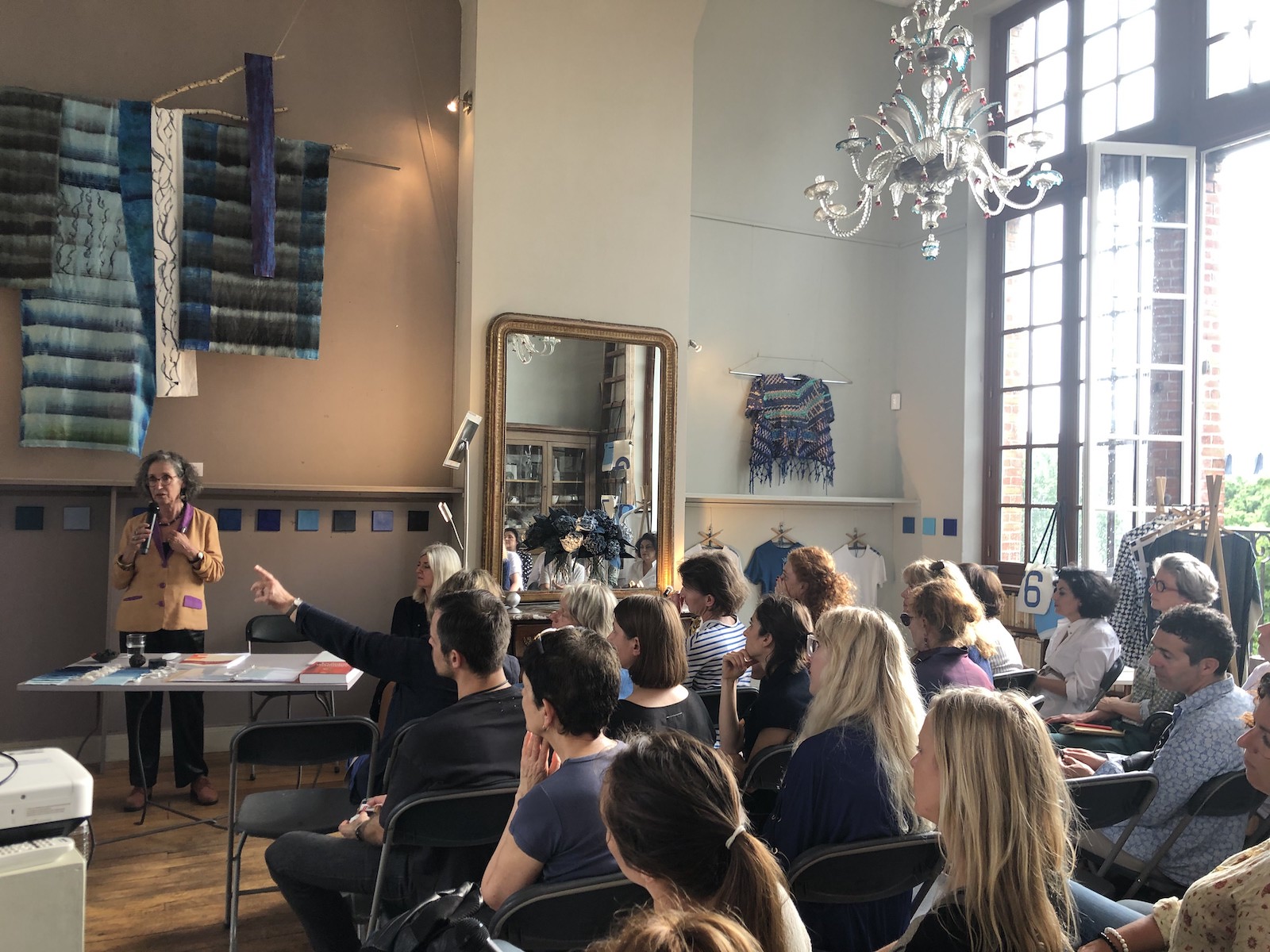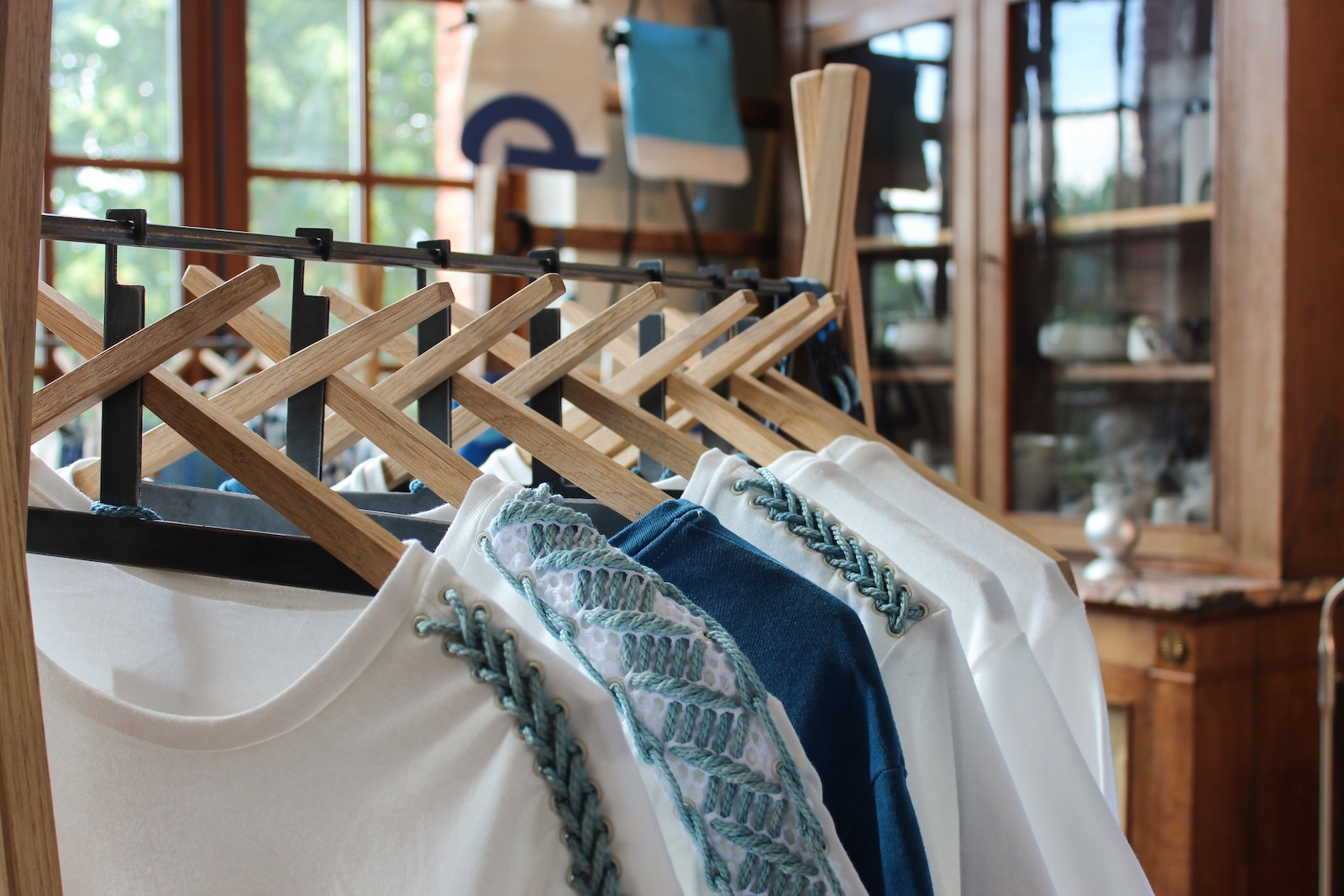 ART COLLABORATIONS:
"THE INDIGO KIMONO " KER MER x PHILIPPE ROBIGO
This statutory piece for KER MER links fashion to art by promoting a return to the sources. Artist Philippe Robigo, concerned by the problems of humanity, maintains a constant link with Japan. The Indigo Kimono, inspired by this traditional Japanese ceremonial garment hangs from a tree branch, composed of several strands of paper and textiles that meet KER MER's sustainable development concerns: recycling of de-inked fabric previously used by printers to clean their machines, and pictorial intervention with the natural indigo pigment supplied by Patrick Brenac. Indigo, the new colour that translates commitment to the protection of our oceans.
«THE WANDERING BLUE SOUL» KER MER x HYACINTHE OUATTARA
Concerned by the flow of migrants, Hyacinthe has long drawn inspiration from the transformation of fabric, as much memory of form as of the individual in his personal progression. Hyacinthe reworked the spirit of one of his works into a plastic object, half-poof, half-sculpture. This work is made in recycled Egyptian cotton and from a stock of naturally dyed dormant linen.
FASHION COLLABORATIONS
KER MER x QUOÏ ALEXANDER – Tee Shirt
Artist and fashion designer Quoï Alexander is deeply committed to upcycling since his debut at Central Saint Martins in London. He has developed a limited edition collection of organic Egyptian cotton tee-shirts in collaboration with KER MER.
The Links Tee-Shirt is a tribute to the exquisite hand-craftsmanship of Quoï and his team at his Parisian atelier.
Quoï's adapted his signature no-sew weaving technique to create an accessible haute couture product while retaining his hand-workmanship.
KER MER x TREED 3D TECHNOLOGY AND BIO-SOURCE MATERIALS
KER MER and Lou Saint Cyr, a recent graduate of École Boulle and recognized for her commitment to sustainable creative design, have designed a set of nesting tables where 3D technology is associated with bio-sourced materials.
Inspired by maritime fishing, the nesting tables echo the movement of water with their undulating wave shapes.
The perspective effect of superimposed layers and curved volumes was possible with 3D printing technology. The material used to print the nesting tables is a bio-plastic: PLA (poly-lactic acid) is derived from biological resources such as maize, cassava, sugar cane, cereals or sugar beet. Under certain conditions, this type of thermoplastic can be 100% biodegradable.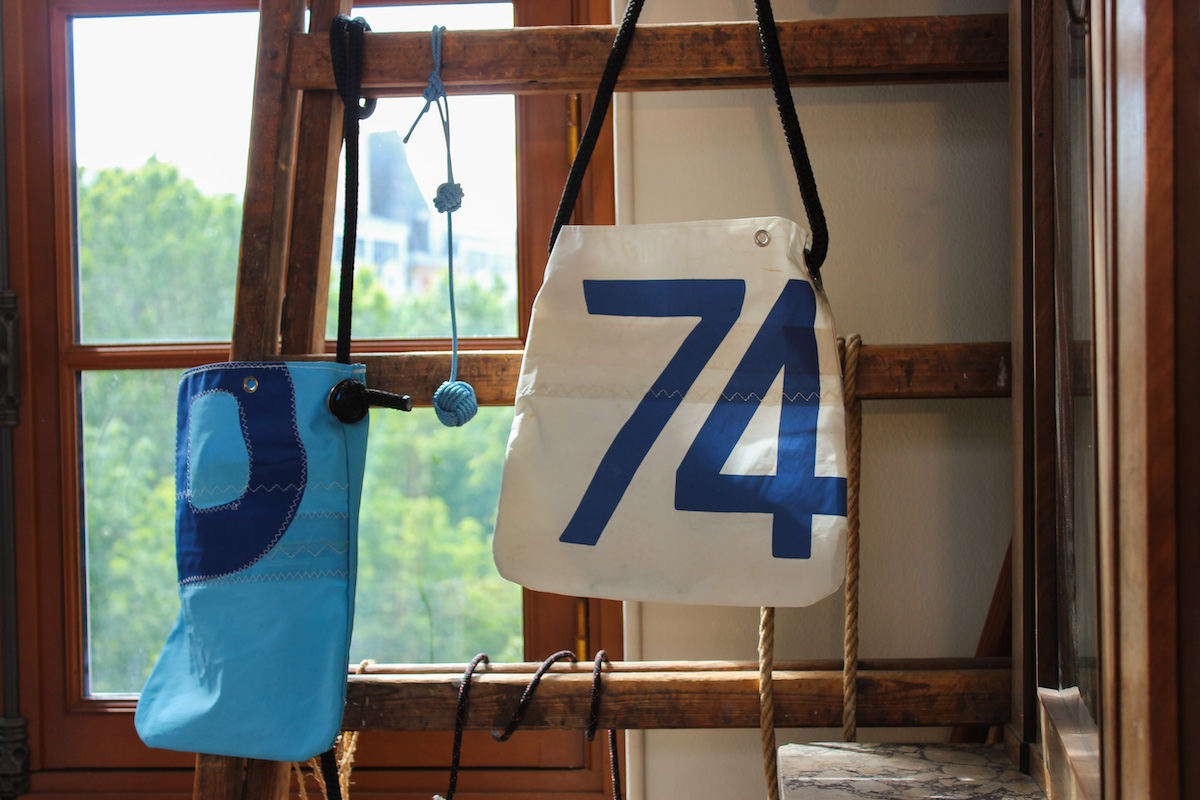 KER MER x LAURENCE JEANDOT
KER MER and Laurence Jeandot explore the aesthetics of recycled sails. Laurence Jeandot, trained by sailing master Ewen de Kergariou and former curator of the ornithological bay of Morlaix, is based in Finistere Nord in Plouezoch where her sailing workshop is based since 2004. Her workshop designs sails for private customers but also for professionals from the world of sailing. At the end of their life, the sails are recycled and repurposed as fashion accessories such as tote bags. These sails are from the Locquirec sailing school.
OUR GUESTS :
ANTO, FAÇON JACMIN, JULIETTE PEYRET, KARIN LEWIN, LAB, LIVING BLUE, MARIE REQUILLART, SMARIN, GREEN GLASS RECYCLED INITIATIVE.