Collaboration KER MER at ARTE DIEM : "the Poppies"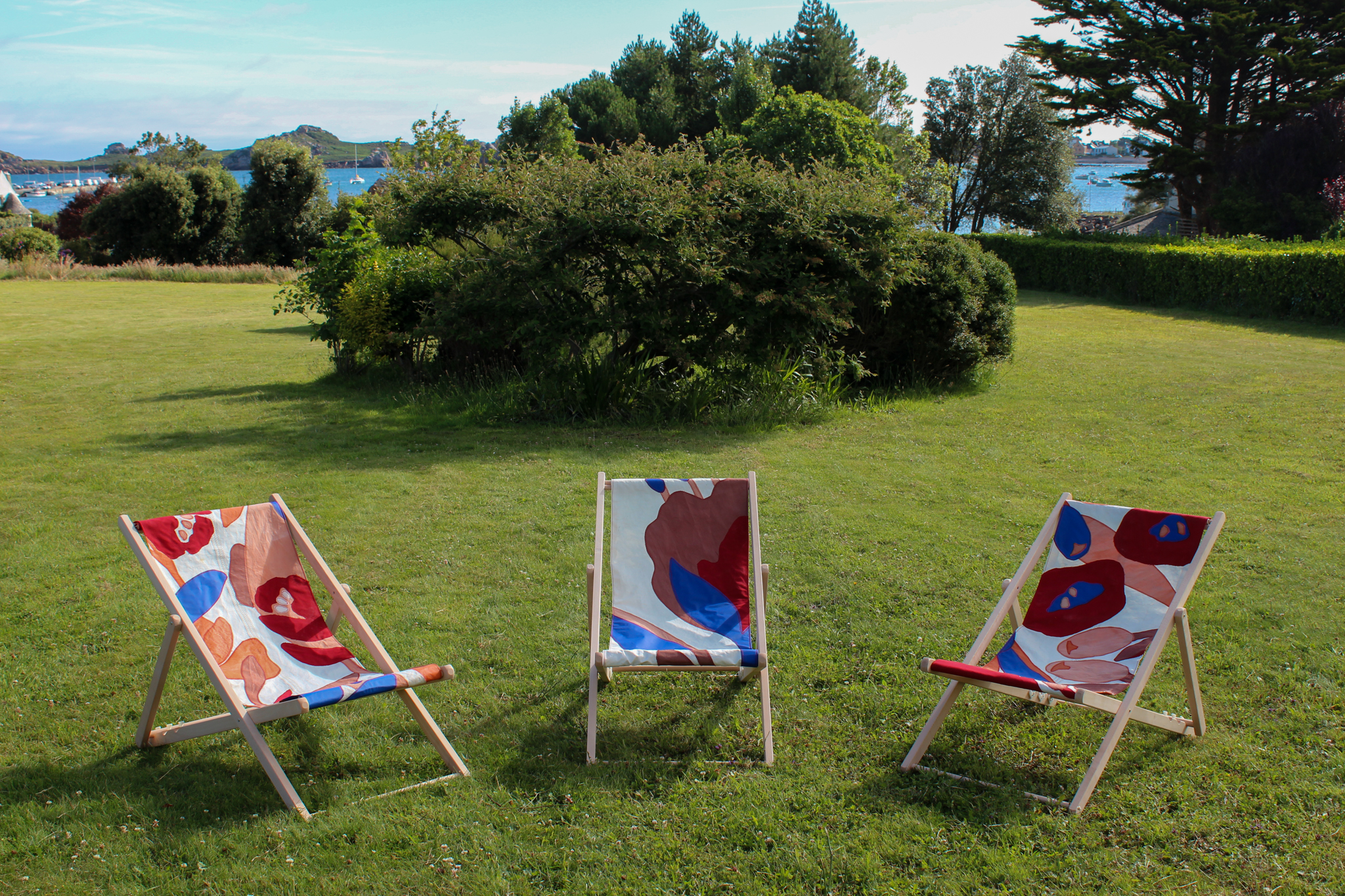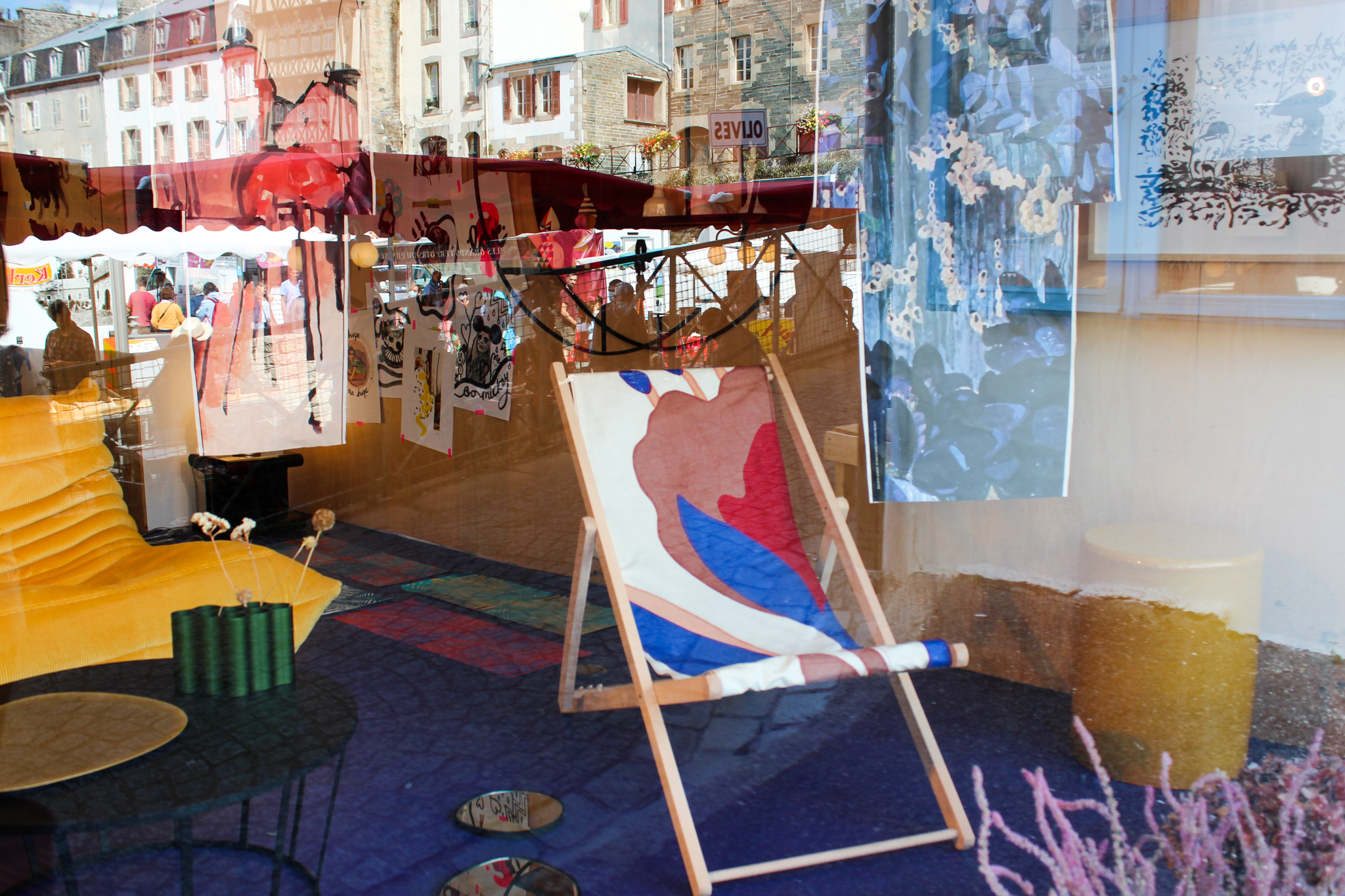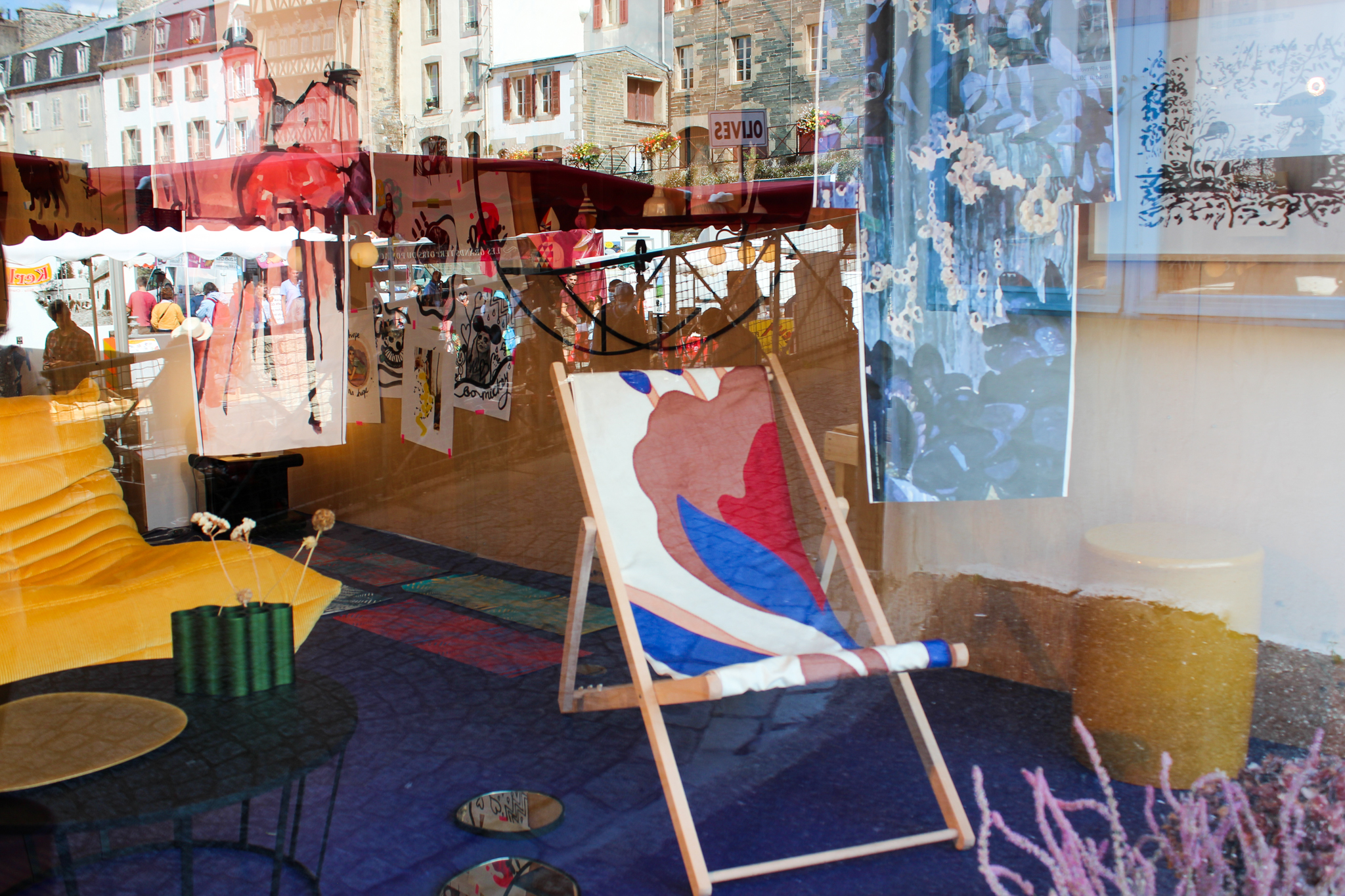 When creativity and know-how of the bay of Morlaix meet in an art of living unique 100% local, available in KER MER limited edition at ARTE DIEM for the exhibition "Glaz – Oh les filles ".
KER MER collaborations create a link between all actors wishing to evolve towards a sustainable mode of consumption. The Association of Creativity and Traceability of raw Materials, organic and recycled, leads to new ethical and aesthetic choices, respectful of our humanity and our living heritage.
Inspired by an abundant and generous nature, Pascaline Floch, illustrator from Morlaix, brought her universe of organic shapes and shimmering colors to a limited series of deckchairs and bags in upcycled sail. By their technical and resistant material, upcycled sails, all collected in the Bay of Morlaix, have a unique rendering.
Cut and assembled by hand, they each have their own sailing history. The sailmaker Laurence Jeandot in Plouezoch puts her artisanal know-how at the service of the committed creativity of KER MER in protecting the oceans.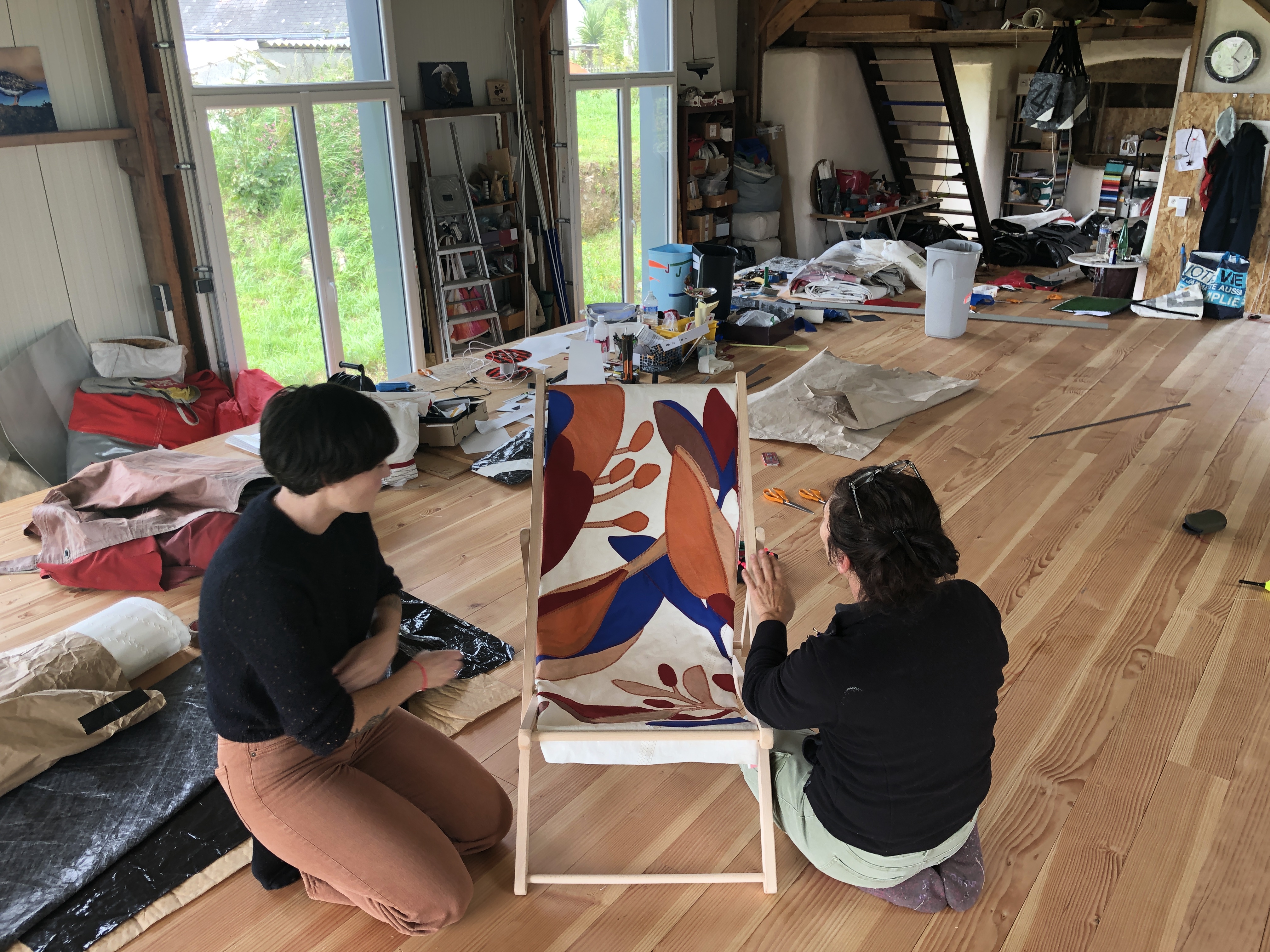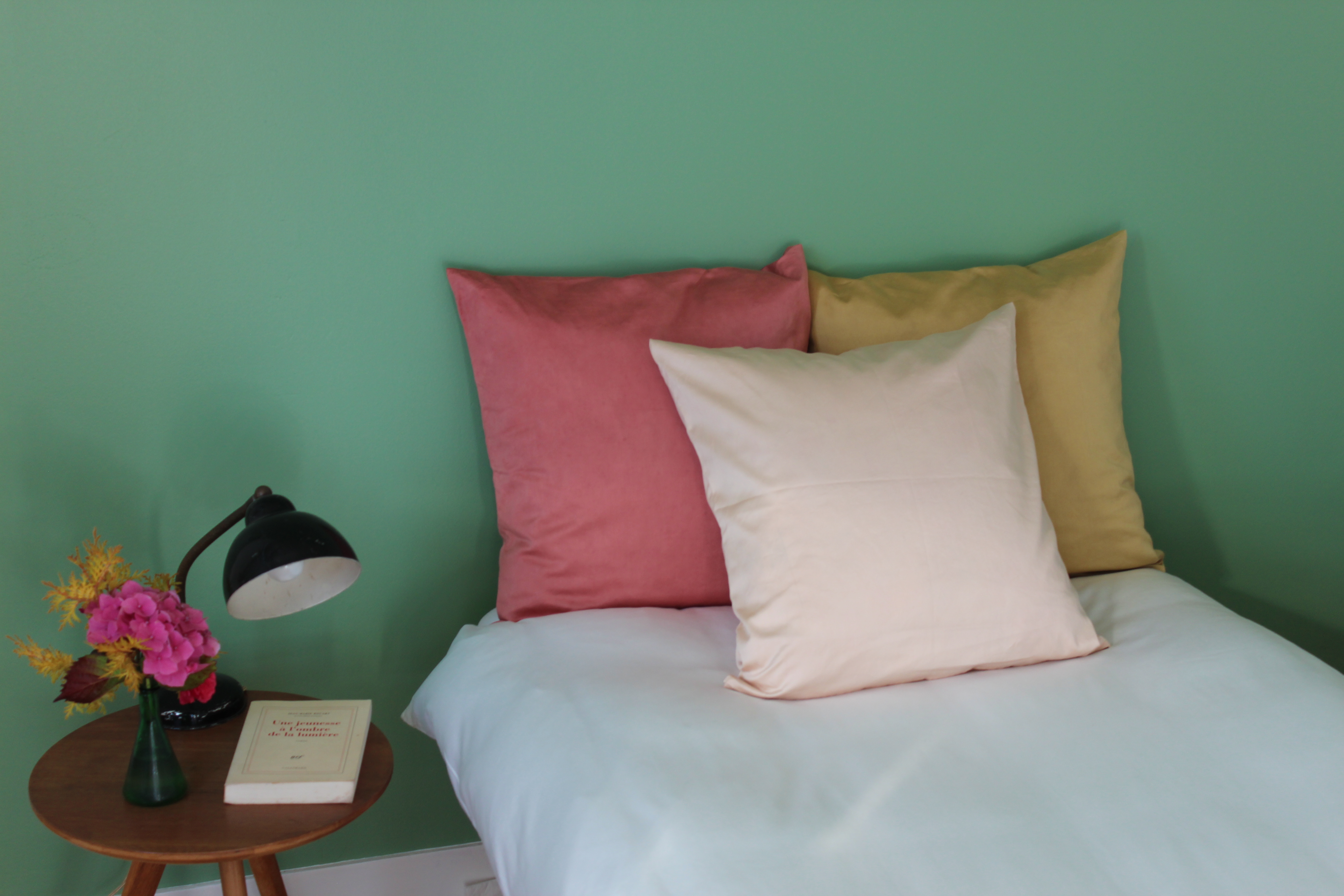 The new line of organic Egyptian cotton bed linen from KER MER, the Essentials, completes this art of living. This one is embellished with cushions in incomparable colors, made in natural dye by the artist / artisan dyer Véronique Futtersack. These sets of beds bear witness to a return to true luxury where the depth of these colors is made possible thanks to the perfect mastery and knowledge of the tinctorial properties of plants …like the red of madder cultivated in France, the powdery pink and gray of avocado skins, or the golden yellow of Roscoff onion peels united with Canada fleabane picked in North Finistère. These creations will only be available on special order.
When it comes to organic cotton cultivation, chemicals that are devastating to the flora and fauna are prohibited. This prevents human chemical contamination and pollution of the water and therefore restores biodiversity, so dear to our Nature. But not only ! Also note that water consumption is also reduced between 20% and 30% compared to a conventional cotton crop.
When we are also interested in the softness and resistance of the material, Egyptian cotton is establishing itself as the benchmark in the world. Its long fibers are determined by its exceptional natural environment. Egyptian cotton is a great vintage of the Nile and you should know appreciate it!
KER MER is positioned on exclusive, ethical and collaborative creations anchored in the Morlaisian territory, weaving in the thread of Excellence the web of a different world where Luxury finds what it should never have lost: the Exceptional.
Material traceability is essential in all our manufactured products. KER MER promotes exceptional materials while favoring short circuits, the circular economy and its actors. It is by bringing together the expertise of each other in knowledge of their functioning and their capacity that KER MER wishes to demonstrate the relevance of a new business model with the participation and engagement of consumer actors!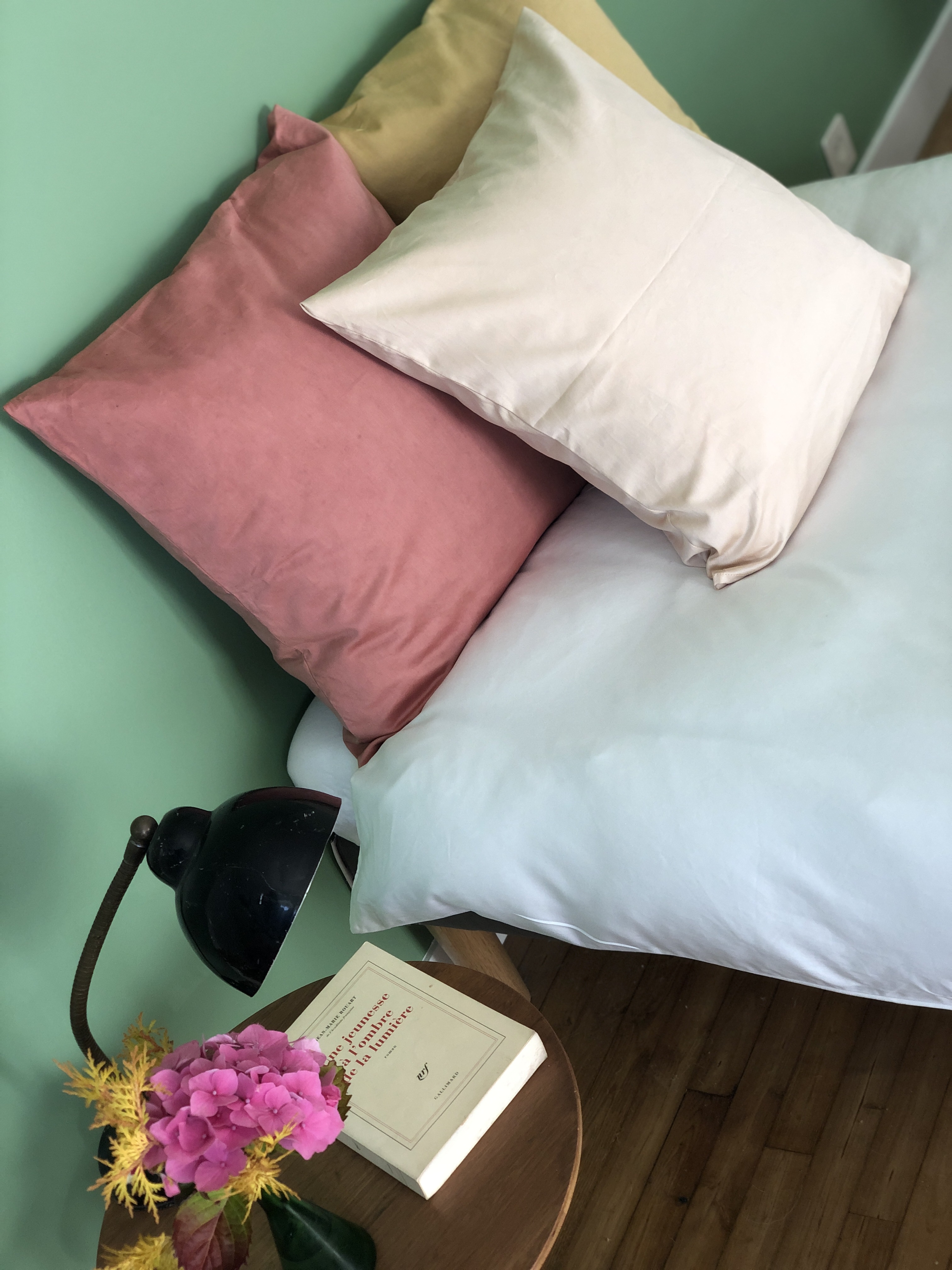 Who are the actors of this KER MER collaboration at the exhibition "Oh les filles" at ARTE DIEM?
The actors of the Morlaisian territory in this KER MER collaboration are:
– Arte Diem is the benchmark store for design and the art of living in Morlaix founded by Yannick Roualec
– Pascaline Floch is an illustrator in Morlaix, has her own stationery line and works in freelance for companies.
– The Voilerie Jeandot in Plouezoch, founded by Laurence Jeandot, Master craftsman sailboat, realizes sails for individuals and professionals
– Laurence Richardin Lescaudron, Master Craftsman Upholsterer Decorator in Plougasnou is in charge of decoration projects for individuals.
– Véronique Futtersack is an artist / craftsman specializing in vegetable dyes with Plougasnou.
– KER MER is the eco-responsible Essentials brand in fashion and lifestyle, a creative concept, a traceability label and a Collective committed to the protection of Oceans.
Exhibition til September 30th at ARTE DIEM – Place Allende -29600 Morlaix