The "Savoir-faire des Takumi"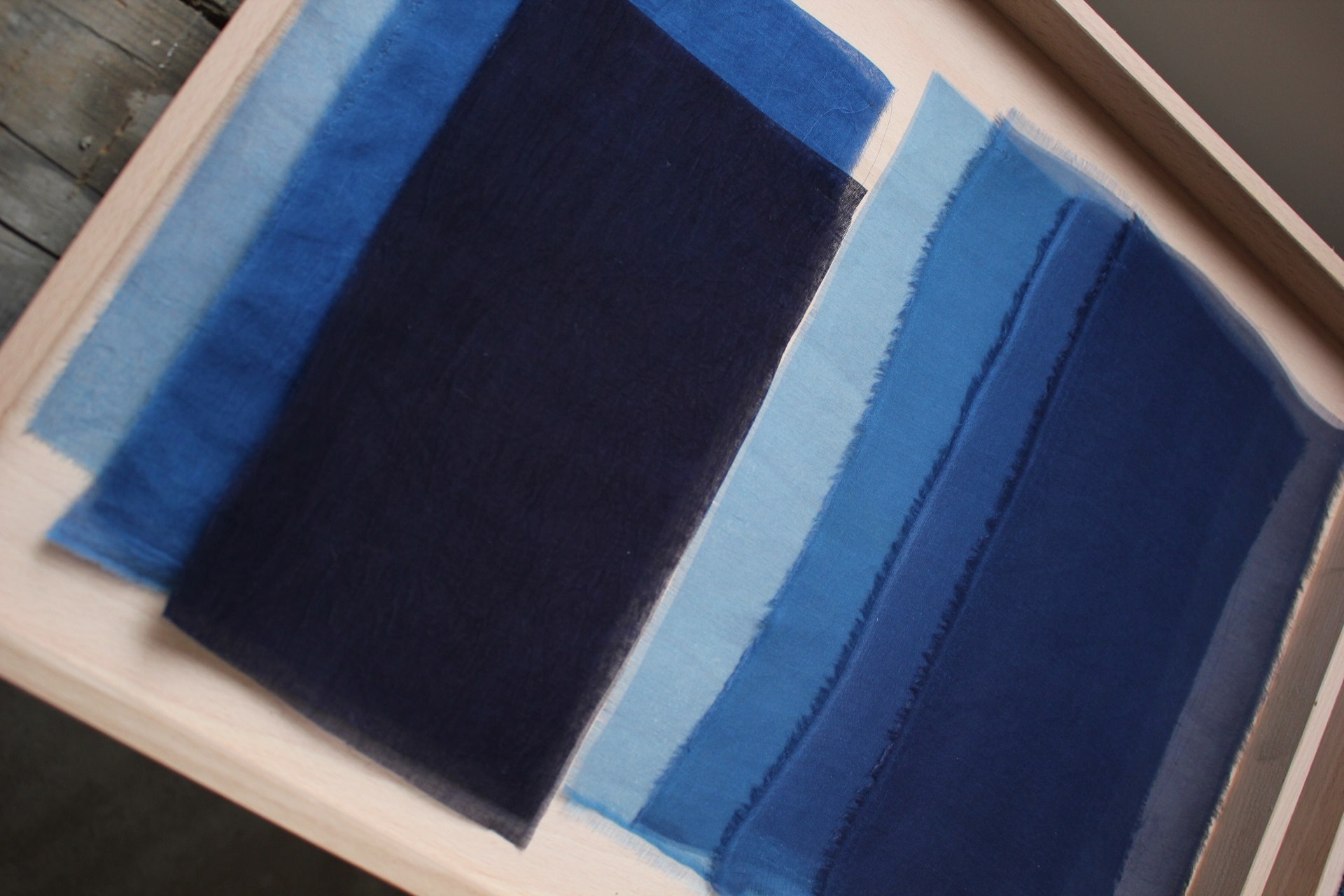 The Kimono – The World's First Ecological Garment
KER MER spoke with Anaïs Guery, who participated in the "Savoir-faire des Takumi" in a creative pairing with Masahiro Inoue, Master of Kyoto Art Mounting.
KER MER : What is the "Savoir-faire des Takumi" and how did you become involved?
Anaïs Guery: The "Savoir-faire des Takumi" is an incentive by the city of Paris, and the city of Kyoto in Japan. It is a collaborative project to promote artists and craftsmen from both cities. "Takumi" is Japanese for an artist or craftsman whose creations demonstrate total mastery of creation and technique. We were ten French and ten Japanese artists, each with a completely different expertise, invited to take part in this cultural exchange. The first meeting was in Paris where we were presented to each other. Then, we each worked on our own side before travelling to Kyoto.
KER MER : How did you chose Masahiro as your partner?
Anaïs Guery : We chose each other! Masahiro is a third-generation kakemono scroll-mounting artist. He creates frames for these works of art, then his frame becomes part of the artwork. Masahiro's grandfather was an art restorer in the Museum of Kyoto before he began working independently. Masahiro has been working with his father for the last twenty years. They work in a very traditional way.
KER MER : How did you develop this project together?
Anaïs Guery : We each worked on a piece, we had a creative conversation. His "Kakejiku", the hanging scroll, fascinated me with its beautiful compositions of lines and textures. These abstract works invite us to meditate. In its way, it's close to indigo dyeing, which is a permanent quest for the expression of emotion through a pure color. In Japan, artwork is traditionally presented on a roll of paper or fabric. I designed a kimono using one of my own jacket patterns, using their very specific proportions for the kimono, based on the Golden Mean. Masahiro mounted my kimono on an extremely thin paper in an edge-to-edge patchwork that he glued to backing paper with natural adhesive.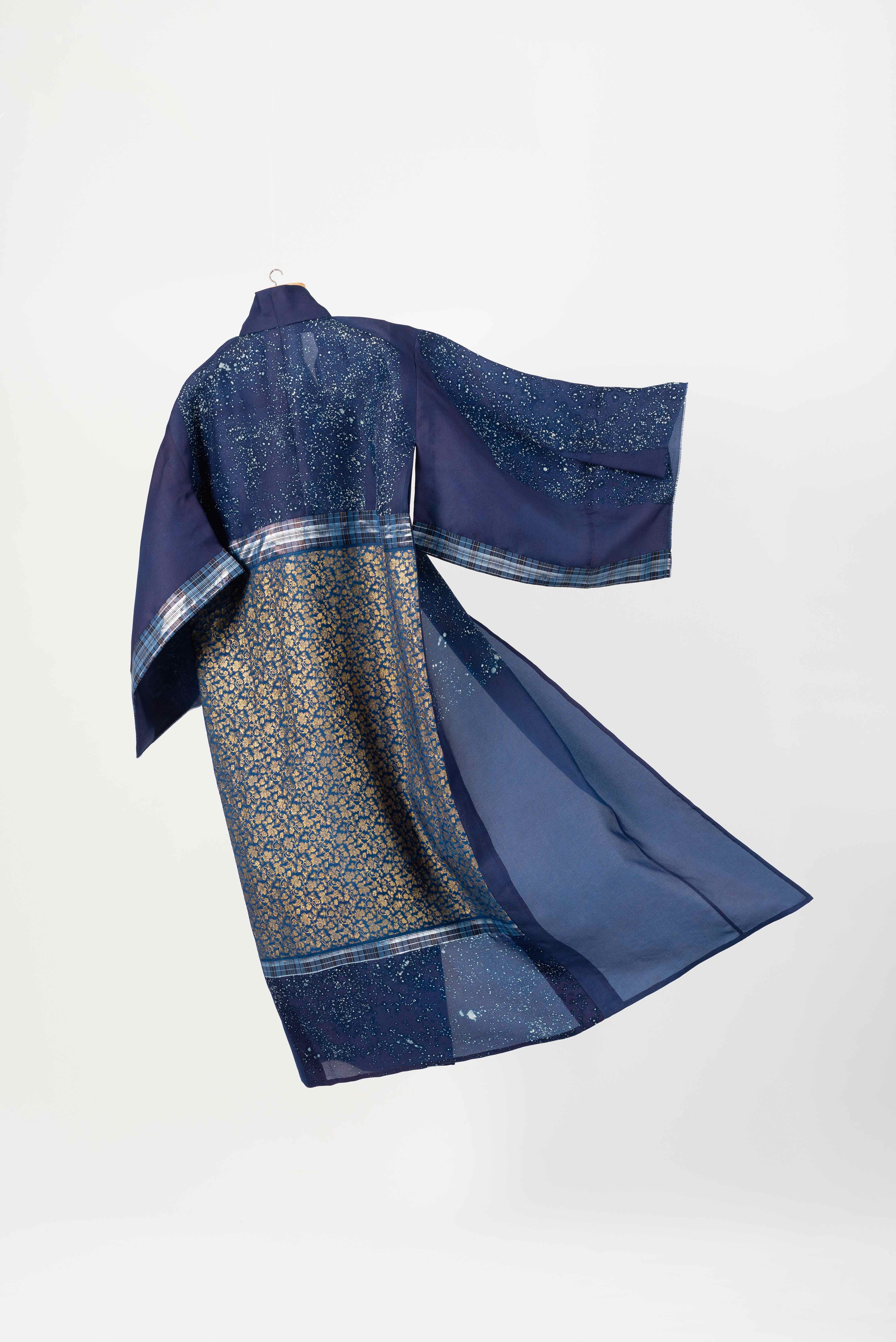 KER MER : What does the kimono mean to you?
Anaïs Guery : It made me really, really reflect. The art of kimono making is disappearing, and yet, this is the most ecological garment in the world! The cut never changes! The pattern and fabric change, but never the cut, so it can never go out of fashion!
KER MER : It is also very dressy.
Anaïs Guery : We would wear it open as a coat or jacket, for the Japanese, it's ceremonial. In the West today, we buy a garment and wear it for a year, then it's out of fashion, so we'll use cheaper material. The kimono is cut from a length of material that is 90 centimeters wide.
There is zero waste, no leftover fabric. The collar is 1/4 of the width, the first length is one sleeve, the second, the second sleeve. The remaining half forms the body. The cut never changes, just the fabric. It puts the importance of fabric back in its rightful place.
KER MER : What fabrics did you use ?
Anaïs Guery : The plain fabric is French silk gazar, the panel with golden motif is called kinran, a predecessor of lurex, traditionally used in scroll mounting. Scrolls are usually placed in a somber area of the room, for meditation and contemplation. Kinran is used at the edges of the frame to add light. When I used it for the center of the kimono, Masahiro went crazy!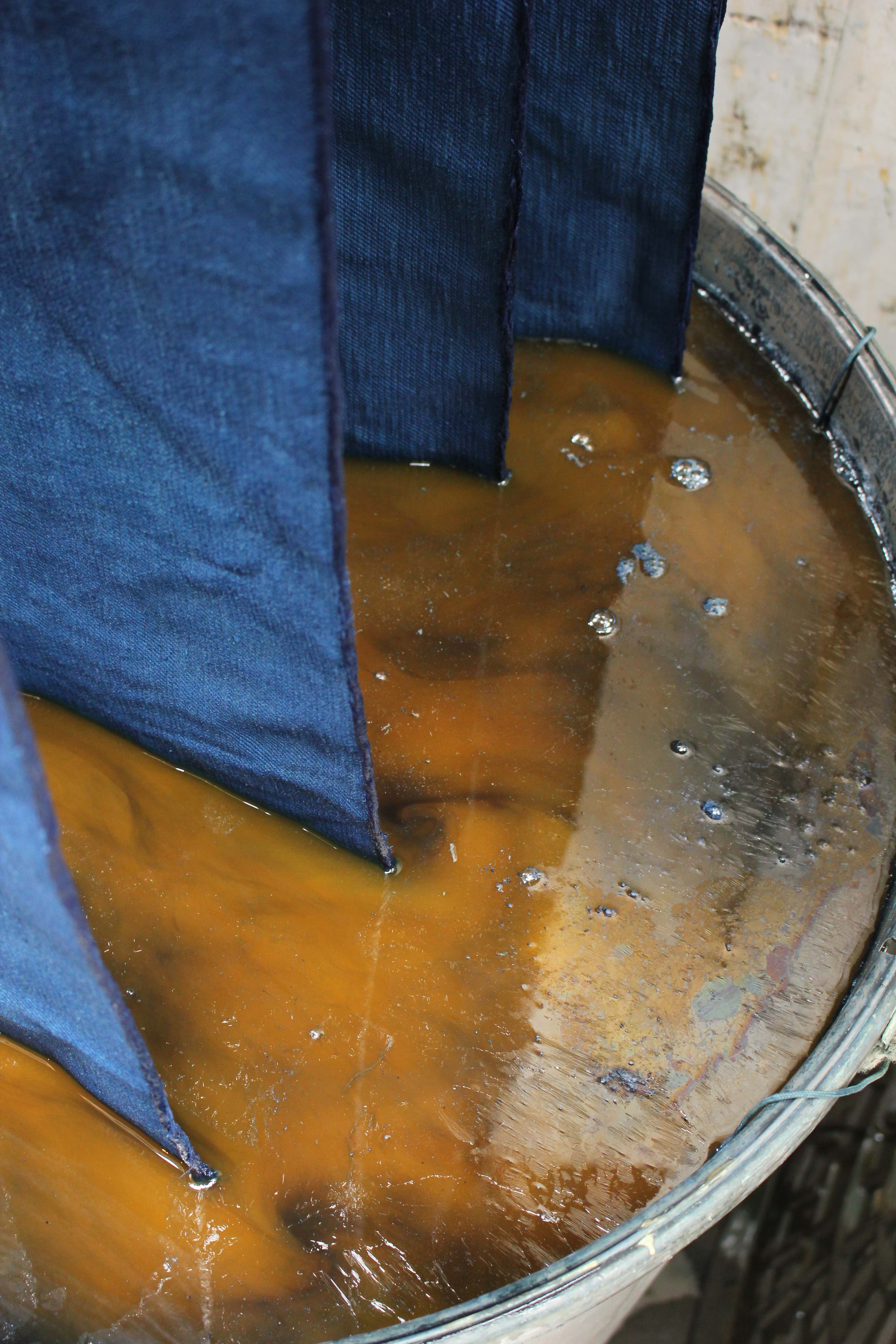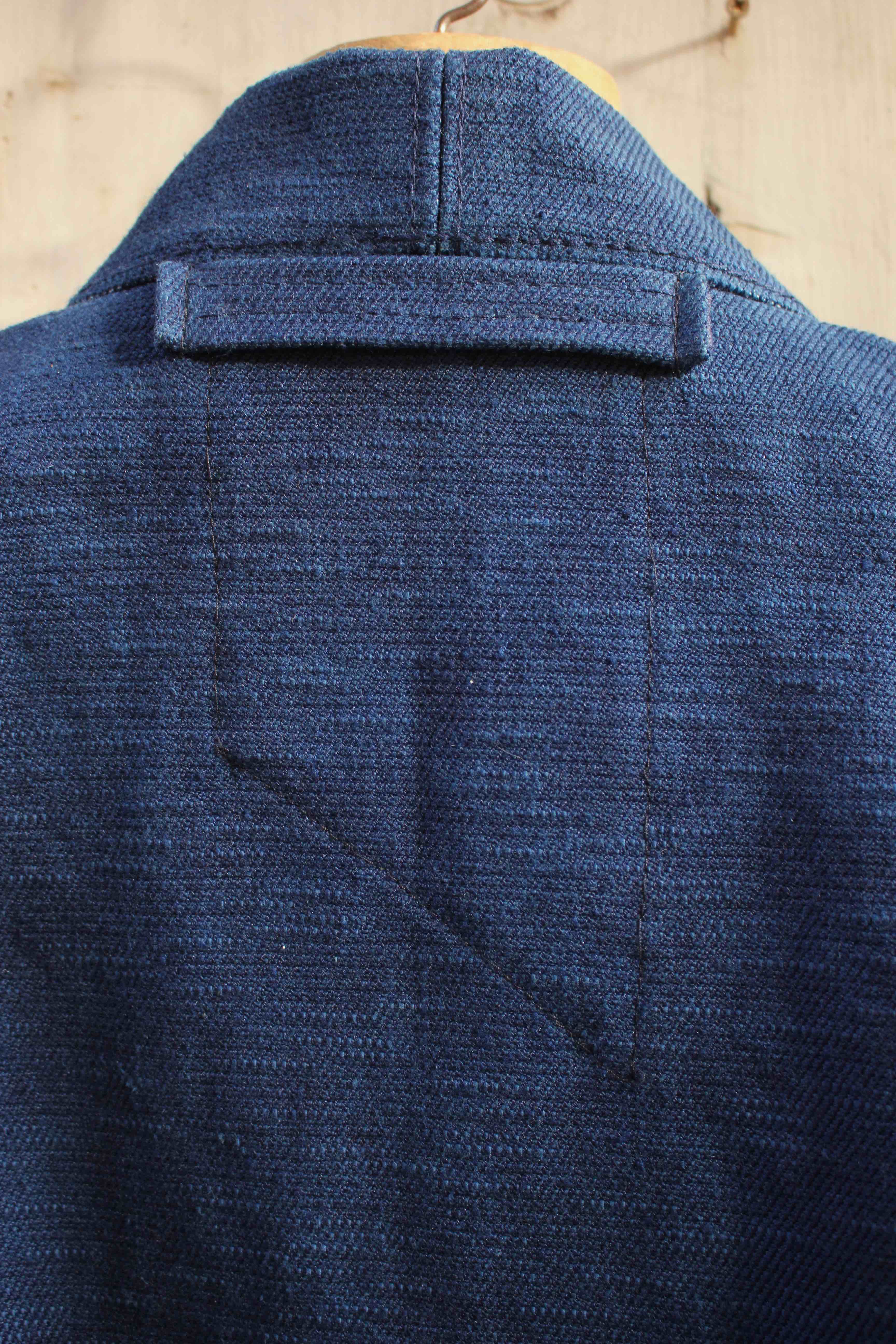 KER MER : This is a truly beautiful and contemporary piece.
Anaïs Guery : In Japan, when you part with your kimono, it is dissembled and repurposed, but never destroyed. [In the West], we produce textiles that will last for 10-15 years in a style that we'll wear for one year. It has made me rethink the whole mode of consumption. I want to completely reverse it. We have to create things that we'll want to hold on to.
Jean